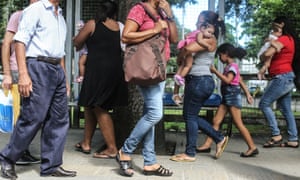 Infants born with microcephaly are carried by their mothers after visiting a rehabilitation clinic in Recife, Brazil.
Photograph: Mario Tama/Getty Images
The World Health Organisation has advised people living in regions where Zika virus has spread to consider delaying pregnancy because of the severe birth defects that have been tied to the disease.
Governments of five countries, as well as Puerto Rico's health secretary, have individually issued similar advice but this sweeping recommendation applies to the millions of people in countries where the virus has been detected.
WHO said mosquito-borne transmission of the virus has been detected in 60 countries and territories since 2007.
Related: Heartbreak and hardship for women in Brazil as Zika crisis casts deep shadow | Sarah Boseley
The virus is linked to thousands of cases of severe brain defects and microcephaly, a rare birth defect that causes babies to be born with abnormally small heads. There is no known treatment to prevent pregnant women with Zika from transmitting the virus to their unborn babies.
The new guidance was issued last week, but it received attention on Thursday after WHO updated it to clarify the difference between people who live in the Zika-affected areas and people who visit them.
Transmission of the virus occurs primarily through mosquitoes, but it is increasingly evident that it can also be transmitted through sex.
The recommendation said that to prevent the adverse effects tied to the disease, men and women of reproductive age living in areas where there is local transmission of the disease should "be correctly informed and oriented to consider delaying pregnancy".
The presence of Zika virus in semen was first found in December 2013 during an outbreak in French Polynesia. It is not known how long Zika can persist in semen after symptoms are detected.
WHO recommends that men and women who have traveled to these areas should consider abstinence for at least the eight weeks following their return home.
The new guidance also says, independent of Zika, people should use safer sexual practices including "correct and consistent use of condoms". The Catholic church had been criticized for maintaining its opposition to birth control during the crisis, which primarily affects Latin American countries that are still heavily influenced by the church. But in February, Pope Francis indicated that women exposed to the virus may use contraception to avoid pregnancy.
WHO's latest guidance comes less than two months before the Olympic Games in Rio de Janeiro. WHO rejected calls to postpone or move the Games because of the outbreak after 150 health experts signed a letter calling for the plans to be revised.