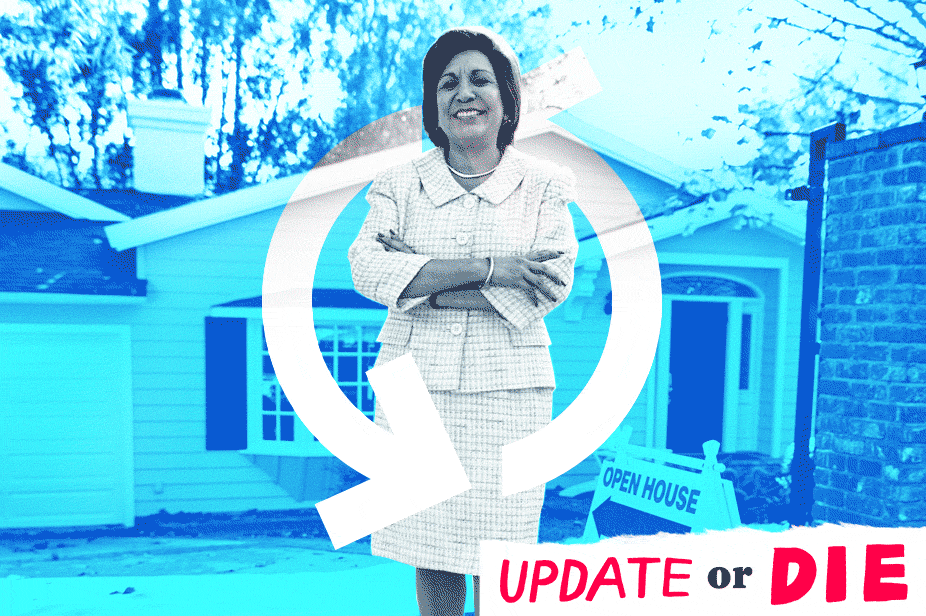 Animation by Lisa Larson-Walker. Photo by Siri Stafford/Thinkstock.
Future Tense is a partnership of Slate, New America, and Arizona State University that examines emerging technologies, public policy, and society.
This article is part of Update or Die, a series from Future Tense about how businesses and other organizations keep up with technological change—and the cost of falling behind.
Between the housing crash, the subsequent housing crisis, and the unshakeable ascent of real estate reality TV, the past decade has so fundamentally changed the way Americans think about buying and selling homes that it's easy to forget that the way we actually buy and sell homes is the same as it ever was.
For sellers: hire an agent, do a little renovation, list, and wait. For buyers: hire an agent, traverse open houses, make an offer, and wait. If you're selling, expect to pay at least a 5 percent commission on one of the biggest financial transactions of your life.
Nearly 9 in 10 Americans use an agent to buy and sell their homes. Last year, residential commission revenue was somewhere in the range of $75 billion. And the market remains fragmented, with even the biggest brokerages managing just a tiny fraction of transactions—at least for now. "Wall Street and Silicon Valley are infatuated with the idea there isn't an industry in the world they can't blow to shreds with money and technology," says Steve Murray, the president of real estate analysis firm Real Trends. There are signs that real estate's time has come. "We're going to see an infinite variety of changes to the way people buy and sell homes."
According to PitchBook, an analysis firm owned by Morningstar, the amount of venture capital invested in real estate technology companies was up to $1.2 billion in 2017 from just $31 million in 2012. In May, Zillow, the online listings behemoth that also owns Trulia and StreetEasy, announced it would start buying and selling homes. Newer startups will buy houses sight unseen, or with a lifelong contract that allows the seller to remain living there until death.
There's a general sense that the internet should do more than entertain window shoppers and generate leads for agents. It should actually make it easier and cheaper to sell a house. There's just one issue: No one has figured out how to bypass the flesh-and-blood real estate agent.
"The old idea that real estate is never going to change, that we're going to pay 6 percent, is completely untrue," argues Glenn Kelman, the CEO of Seattle-based Redfin, a publicly traded brokerage whose calling card is lower commissions. For Kelman, the rush of cash into real estate startups feels like vindication for a corporate model that investors have regarded with skepticism. Redfin's low-fee model relies on an army of in-house agents who trade typical commissions for the volume that's possible with internet-generated leads. A Redfin world isn't a world without real estate agents, but it is one where fewer agents do more. The nation's 1.4 million working real estate agents do not particularly like Redfin.
Zillow has a different approach. The company hasn't disrupted the traditional agent model; on the contrary, it's dependent on it. In the first quarter of 2018, Zillow raked in $300 million in revenue (Redfin's revenue for all of 2017 was $370 million); more than 70 percent of that came from the company's "Premier Agents," who pay for prime placement on the site to generate leads. In becoming an iBuyer (the industry's term of art, short for "instant buyer"), the company won't bite the real estate-brokering hand that feeds it. If anything, the pivot provides a lucrative opportunity for local agents to cement their relationships with a company that is trying to become an industrial-scale homebuyer.
You'll wind up banking less from Zillow than you would have from a traditional sale through a local real estate agent. But the company believes there's a big tranche of sellers who will take convenience in exchange for a smaller sum for their house. "That's not what most consumers care about," surmises Jeremy Wacksman, the company's chief marketing officer. "What they care about is pushing the button and making magic happen." Magic, in this case, means selling your house in a matter of days, even at a small discount.
Zillow aims to finish the year with 300 to 1,000 houses in its inventory. In the long term, the company imagines using its extensive reach to make it possible for families to easily coordinate sales and purchases, even across cities, eliminating the uncertainty that accompanies a move. If a new job at Disney World draws your family from Las Vegas to Orlando, Zillow might help you on both ends of the move, making sure there's just a few days downtime between sale and purchase.
There's another trend that explains Zillow's logic—and that of a handful of other startups willing to engage (and able to secure funding) in the capital-intensive business of buying houses. Driven by a national, yearlong homebuilding shortage, home prices have recovered and surpassed their pre-recession value, while the homeownership rate remains just ticks above a 50-year low—a housing recovery without homeowners. This gives investors confidence in the market: There really aren't enough places for Americans to live. Relatedly, it has created a new and prominent force in homebuying, the single-family home investor, which can be a good partner for startups looking to make quick transactions. Before Zillow announced its big push into flipping this spring, it ran a trial program called "instant offers" in Las Vegas and Orlando, working exclusively to sell houses to investor-buyers like Invitation Homes, one of the country's largest single-family landlords.
Zillow also isn't the first company to try acting as a middleman. San Francisco-based Opendoor has made tens of thousands of offers on homes, mostly in Sun Belt cities like Phoenix and Dallas. These places are an easier market than New York or San Francisco: The housing stock is newer, cheaper, and more suburban—which is to say, self-similar. Transactions taxes tend to be lower. The company sees itself as competing against seller uncertainty. "[Zillow] keep[s] the agents at the center of the transaction, which is in line with their business model," says Cristin Culver, head of communications for Opendoor. "And we keep the customer at the center, which is really our North Star, and that's the difference." But even as the company's rapid appraisals make it possible for sellers to skip agents on the first transaction, after doing some small renovations (paint, HVAC, basic repairs), Opendoor will often retain local help to move the house.
Why hasn't the internet cut out the agent, even as houses sell to internet companies with the click of a button? In part because consumers aren't really trying to inject any startup pizzazz into the largest (and most complex) transaction of their lives. Local knowledge remains invaluable. That, and it's hard to develop regular clients. This isn't Seamless. In real estate, a satisfied customer isn't coming back anytime soon.