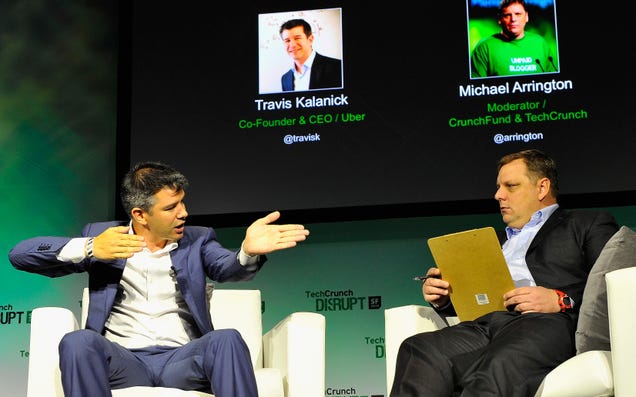 San Francisco's District Attorney has already charged the UberX driver who allegedly used a hammer to beat passenger with two felony counts for assault and battery. But the victim, Robert Chicas, will have a harder time suing Uber directly for an attack that left him hospitalized for three days with a fractured skull, reports Forbes.
Reporter Ellen Huet spoke to Harry Stern, Chicas' lawyer, who said his 35-year-old client is "in serious danger of losing his eye" and will need reconstructive surgery. We heard friends of Chicas were holding a fundraiser this Sunday at Ace's on Sutter Street to help pay for related costs, including hundreds of thousands of dollars in medical bills.
Stern told Forbes that Chicas was likely to sue both Uber and 26-year-old driver Patrick Karajah, who allegedly attacked Chicas over a disagreements about the fastest route:
"There's no doubt that the trail of liability leads back to Uber's doorstep," Stern said. "We believe they should pay."
However, Uber's terms of service distance the company, last valued by its investors at around $18 billion, from any liability:
THE COMPANY MAY INTRODUCE YOU TO THIRD PARTY TRANSPORTATION PROVIDERS FOR THE PURPOSES OF PROVIDING TRANSPORTATION. WE WILL NOT ASSESS THE SUITABILITY, LEGALITY OR ABILITY OF ANY THIRD PARTY TRANSPORTATION PROVIDERS AND YOU EXPRESSLY WAIVE AND RELEASE THE COMPANY FROM ANY AND ALL ANY LIABILITY, CLAIMS OR DAMAGES ARISING FROM OR IN ANY WAY RELATED TO THE THIRD PARTY TRANSPORTATION PROVIDER. YOU ACKNOWLEDGE THAT THIRD PARTY TRANSPORTATION PROVIDERS PROVIDING TRANSPORTATION SERVICES REQUESTED THROUGH UBERX MAY OFFER RIDESHARING OR PEER-TO-PEER TRANSPORTATION SERVICES AND MAY NOT BE PROFESSIONALLY LICENSED OR PERMITTED. THE COMPANY WILL NOT BE A PARTY TO DISPUTES, NEGOTIATIONS OF DISPUTES BETWEEN YOU AND ANY THIRD PARTY PROVIDERS. WE CANNOT AND WILL NOT PLAY ANY ROLE IN MANAGING PAYMENTS BETWEEN YOU AND THE THIRD PARTY PROVIDERS. RESPONSIBILITY FOR THE DECISIONS YOU MAKE REGARDING SERVICES OFFERED VIA THE APPLICATION OR SERVICE (WITH ALL ITS IMPLICATIONS) RESTS SOLELY WITH YOU. WE WILL NOT ASSESS THE SUITABILITY, LEGALITY OR ABILITY OF ANY SUCH THIRD PARTIES AND YOU EXPRESSLY WAIVE AND RELEASE THE COMPANY FROM ANY AND ALL LIABILITY, CLAIMS, CAUSES OF ACTION, OR DAMAGES ARISING FROM YOUR USE OF THE APPLICATION OR SERVICE, OR IN ANY WAY RELATED TO THE THIRD PARTIES INTRODUCED TO YOU BY THE APPLICATION OR SERVICE.
CEO Travis Kalanick has taken the same dismissive not-my-problem tone after incidents where customers were allegedly attacked by drivers. To add insult to grievous injury, Stern says Uber has yet to refund his fare, which includes Uber's $1 "Safe Ride Fee."
Uber justified that extra dollar (paid a company that has raised $1.5 billion in venture capital) by arguing that it:
. . . supports the increased costs associated with our continued efforts to ensure the safest platform for Uber riders and drivers. Those include an industry-leading background check process, regular motor vehicle checks, driver safety education, current and future development of safety features in the app, and insurance.
Huet offers an in-depth analysis of Uber's "first line of defense": Section 230 of the Communications Decency Act, as well as why it may not apply:
Since Uber does control some of the matchmaking — passengers can't choose their drivers, and prices are controlled by Uber — it might not be a free enough marketplace to qualify, said lawyer Venkat Balasubramani. Even Eric Goldman, a Santa Clara University law professor who usually staunchly defends Section 230, wasn't sure that Uber would qualify: "There's a fine line between an online marketplace and a retailer," he said.

Uber's stance that drivers are merely independent contractors is also on shaky ground, Professor Goldman told Forbes:
"I think one of the risks is that there are so many specifications of being an Uber or Lyft driver is that it creates the risk of the marketplace controlling the behavior of the drivers to such an extent that they really are employees," Goldman said.
After three years in business, Airbnb finally had to professionalize itself and add liability insurance after a woman's house was robbed and vandalized. (Even then, Airbnb waited until this year to deal with its tax burden.) If it wasn't the lawsuit related to the wrongful death of a six-year-old girl, will this be the incident that finally forces Uber to act like a multi-billion dollar operation?
[Image via Getty]