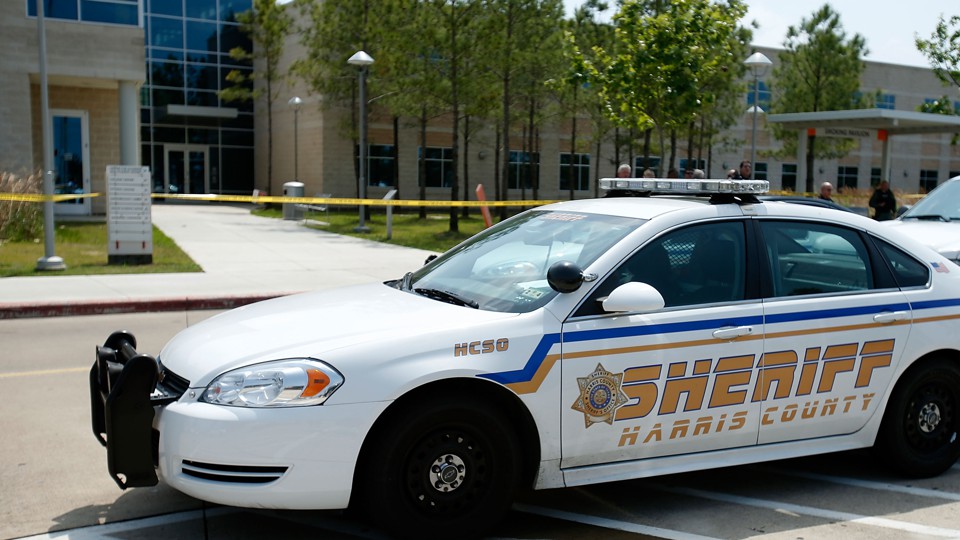 Scott Halleran / Getty Images
HOUSTON—It's hard to top Kim Ogg as a symbol for the rapid pace of political change in urban America, even in states that remain very conservative overall.
Ogg is a left-leaning, openly gay Democratic attorney from this city. In 2016, she routed a Republican incumbent by just over 108,000 votes to win election as the district attorney for Harris County, which includes Houston and surrounding suburbs. Since taking office, Ogg has rapidly engineered changes in criminal-justice policy more familiar in reliably blue cities along the coasts. She's implemented programs to divert large numbers of low-level drug users into treatment or education programs. She's supported an ongoing civil-rights lawsuit alleging that the county's system for setting bail is biased against minorities and poor people, and she's denounced efforts by the Trump administration and Texas Republicans to toughen enforcement against undocumented immigrants.
Her message is bracingly direct: She intends to build a Democratic model for public safety that challenges the prevailing Republican "tough-on-crime" narrative in the state. "I am confident that not only is reform compatible with public safety, but reform is required to make us safer," she insisted at an Atlantic forum on criminal-justice reform that I moderated here last week.
Early in the 2000s, Harris County, like many metro areas, shifted slowly toward the Democrats: Barack Obama carried it by about 18,000 votes in his first election and by less than 1,000 votes in 2012. But in 2016, the dam burst. Hillary Clinton beat Trump in the county by more than 160,000 votes, and Democrat Ed Gonzalez ousted a Republican incumbent as county sheriff by 73,000 votes.
Ogg's victory may have been the most head-turning. It came after Republican incumbent Devon Anderson had tried to rally local conservatives by describing Ogg as "a liberal, pro-choice lesbian." After the election, Ogg described that moment as akin to the common "bad dream" where you show up at school with no clothes on. "I had to magnify that thing that I was so afraid of. And so we just sent it out to everybody ... it was so freeing," she told a local LGBTQ magazine last summer. Ogg's victory continued a striking trend in urban Texas: Two other openly gay women, Annise Parker and Lupe Valdez, had earlier won elections as Houston's mayor and the Dallas County sheriff, respectively. (Valdez on Tuesday won the Democratic nomination to face Republican Governor Greg Abbott in November.)
After assuming office in early 2017, Ogg implemented an overhaul, quickly firing over three dozen prosecutors. "I did not trust ... the architects of the system that I ran against to work with me to rebuild it," she told me in an interview. "I also diversified the leadership, and I think that that was critical in the most diverse city in the country."
Last February, Ogg joined with Houston Mayor Sylvester Turner, Sheriff Gonzalez, and Houston Police Chief Art Acevedo to announce a new policy that decriminalized possession of four ounces or less of marijuana. Now, people caught with those amounts are not arrested or even ticketed, but instead sent to a drug-education class. According to the DA's office, through mid-May, nearly 5,200 people had been diverted from the courts through the misdemeanor marijuana program.
Ogg then targeted enforcement of other drug laws. She stopped prosecuting people caught with residue amounts of drugs other than marijuana that are too small to use—about 2,000 cases a year, she estimates. And she said she's sent about 6,000 people caught with slightly larger amounts of drugs, particularly crack cocaine and methamphetamine, to a special "reintegration" court "for treatment through a mechanism that still allows them to keep their records clean." She's also backed an array of other diversion programs for other nonviolent crimes, including one that eliminates jail time for small retail thefts.
Ogg says all of these ideas promote fiscal responsibility: Until the marijuana diversion program went into effect, she notes, the county had been spending $27 million annually locking up low-level offenders. She also argues that these policies advance social equity by leaving fewer people scarred by a criminal record that harms their long-term employment prospects.
But at the same time, she acknowledges that the key to sustained public acceptance will be evidence that these reforms improve public safety. "We have to show that these reforms don't just save money and people's lives, they also protect the public," Ogg told me in the interview. "Instead of the dragnet that arrests 110,000 people a year, many for very minor crimes, if we have a more nuanced and efficient approach we'll make people safer."
Not surprisingly, especially in Texas, plenty of critics on the right are unconvinced. The marijuana-decriminalization policy drew attacks from some Republican district attorneys in surrounding counties, as well as the state's strongly conservative Lieutenant Governor Dan Patrick, a former Houston talk-radio host. The Houston Police Officers' Union has also sparred with Ogg over several of her initiatives, and it charges that she's been too soft on even some of the most dangerous offenders. Joseph Gamaldi, the union's president, told me he can "see a correction coming" from voters if Ogg doesn't "throw the book" at more "serious" criminals.
Even amid such complaints, some local observers believe Ogg faces greater political risk from the other direction: energized, grassroots African American and Hispanic activists who believe her reforms don't go far enough. It's not easy to walk the tightrope between those offsetting pressures. Ogg, though, is optimistic that Harris County's diversion programs are building a new model for the state. "I think it will continue to be politicized, but I think the fight is over," she said. "We have reformed drug policy in the largest urban area in Texas and eventually the rest of Texas will follow."
To drive that change, and the many other policy shifts they seek, Texas Democrats still face an uphill climb against Republicans, who remain dominant outside of the state's largest metro areas. But with Texas's biggest cities tilting toward them, Democrats, for the first time in years, now have a beachhead from which to mount that fight.